Disability rights and employment-based training for refugees and asylum seekers with disabilities
PRIDE leads refugees through individual training sessions that include individual tutoring, access to community rehabilitation providers, and networking with disability-friendly employers.
Participants go through the program in three phases. PRIDE guides refugees through the sessions along a visual pathway that demonstrates how goal-setting and skill-building can leverage their talents towards employment.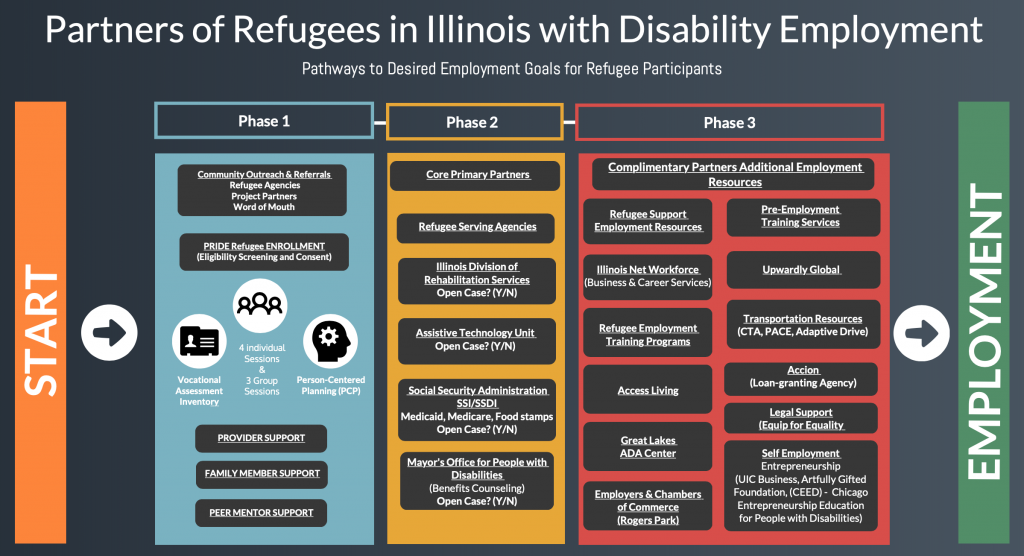 PRIDE facilitates group workshops in the beginning of Phase 1 to introduce refugee participants to the process of finding employment. This is followed by a person-centered planning (PCP) session for one-on-one career development.
Three group workshops introduce participants to disability- and employment-related resources and opportunities to improve their lives. We meet with individual participants for a comprehensive assessment of vocational interests, educational background, past work experiences and future work goals.
PRIDE runs person-centered planning (PCP) sessions with refugee participants with disabilities during Phase 1, to begin the process of connecting and guiding the refugees to long-term employment.
Phase 1  concludes with the PCP session, when PRIDE team members work with the participant to create an employment pathway. The pathway, which works like an action plan, presents steps the individual may take to gradually work toward their employment and career goals.

This product was developed under a grant from the National Institute on Disability, Independent Living, and Rehabilitation Research (grant #90IF0110-01-00). However, contents do not necessarily represent the policy of the NIDILRR, and you should not assume endorsement by the federal government.